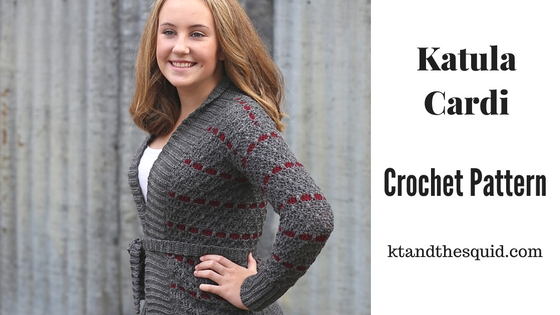 This post contains affiliate links.
I'm so excited to introduce the Katula Cardi!
This design was a labor of love. I can't say it was without any hiccups but I am in love with the end results.
Click HERE to purchase now for $4.99!
The Katula Cardi is belted cardigan (although I like the way it looks without the belt just as much). I can't say it's the easiest pattern I've ever written but anyone with a little experience with garments shouldn't have an issue. The skill level is intermediate according to the Craft Yarn Council standards. If you're following along with my Kram Cardi CAL this would be the perfect garment to try as a next step up.
You can find plus sizes HERE.
Bust: 28"(32", 36", 40") Finished bust: 32"(36", 40", 44"). Garment modeled in size S on a 35"" bust.
For my sample I used Cascade 220. You will need 5(6, 6, 7) hanks of color A (8400) and 1 hank of color B (2401).
You can find yarn for a great price through Craftsy and Amazon
.
Click HERE to purchase now for $4.99!