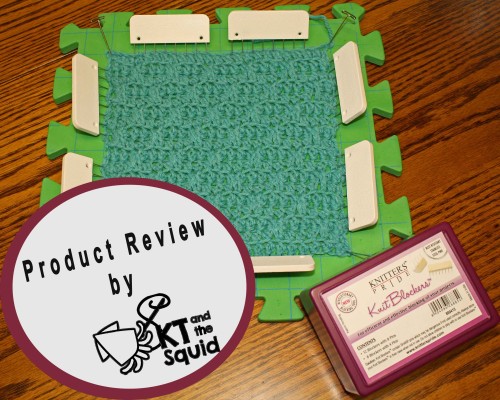 This post contains affiliate links. A big thanks to Nancy's Knit Knacks for letting me try the Knit Blockers. While they were provided free of charge their generous gift did not bias my opinion in anyway. 
One of my least favorite things to do it blocking (and I do a LOT of it!) but I now if I do it well it's the difference between a nice handmade sweater and a sweater that makes you say, "Wow! You made that!?"
One product I recently found that makes blocking go faster is these Knit Blockers made by Knitters Pride and were developed by Nancy's Knit Knacks. There is actually a great story behind them. They were created by a 92 year old knitter who was turned down by a big company the first time. Why!? I thin they are genius!
Knit Blockers decrease the amount of pins you need to use while blocking and even though they are called KNIT blockers they work just as well for crochet items. The blockers are these little plastic paddles (best word I could think to describe them) that have 4 or 8 pins on them (careful, they are sharp!). They come with 12 large and 8 small blockers.
When I first used them It was while I was working on my Kram Cardi (check out the CAL going on HERE!). It definitely made the process go faster! First I pinned out the corners then filled in as much as I could with e blockers then used more ins to fill in what was left. One thing I wish I had dome was just used regular pins for the corners then filled in the sides with the blockers. I've done this since and it's worked much better and has gone just as fast.
My contact at Nancy's Knit Knacks had a few pointers that seemed helpful. He said if you take out the foam pad at the bottom of the box it makes it easier to put the blockers in the case (it does!). He also told me you can use string and pins to extend the use of the blockers. I have yet to try it but using string would be similar to if you were to use wires. Which sounds like it would be fantastic for a lacy shawl.
Overall, I really liked the Knit Blockers. I tend to use a lot of pins but just the one box is plenty for medium sized projects. They usually retail for around $25 and I think that's a great price!
What to try Knit Blockers for yourself? You can find the on Amazon or Annie's. You can also check out your LYS to see if they carry them as well.
Happy Blocking!