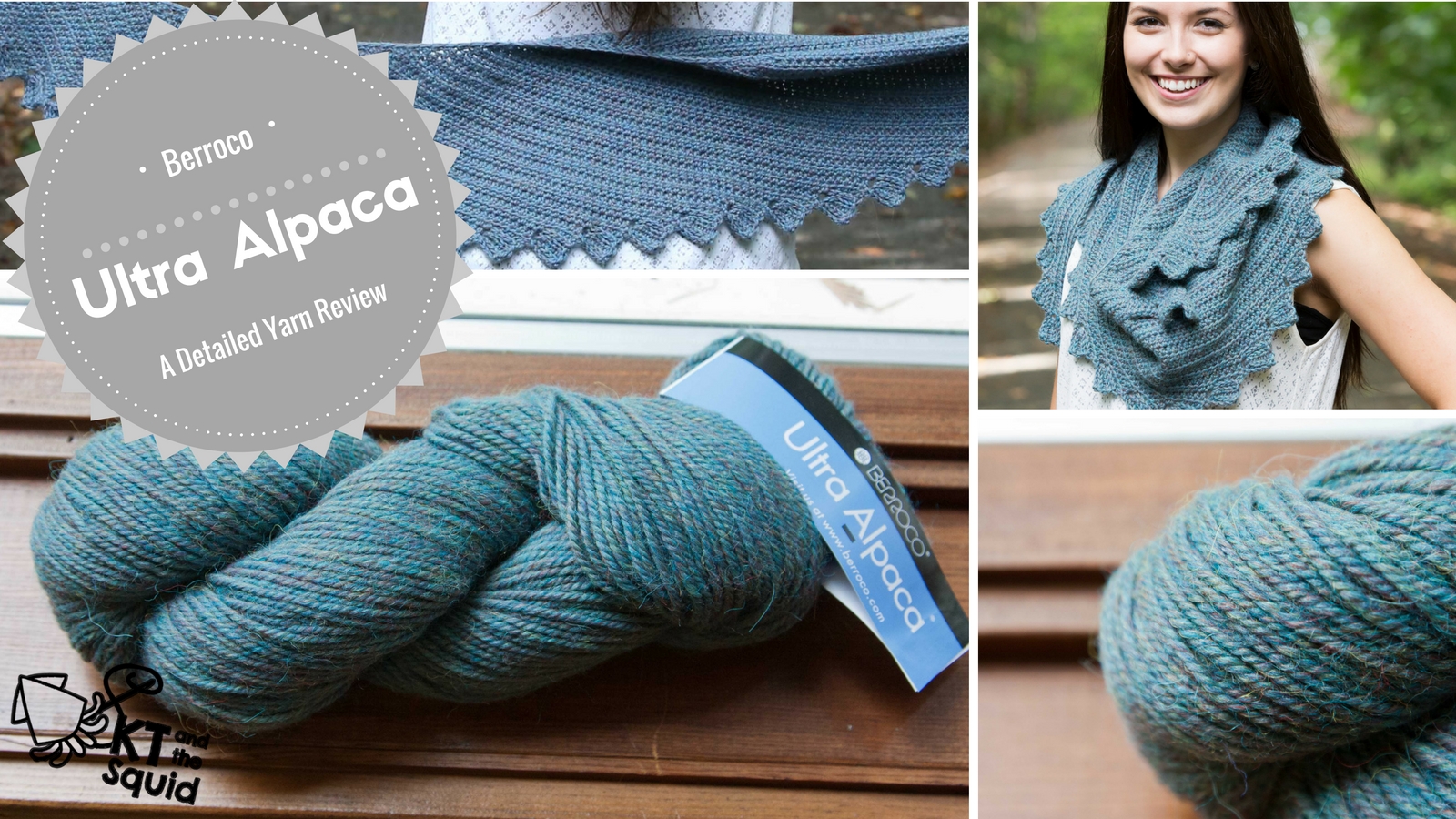 Disclaimer: This post contains affiliate links. The people at Berroco provided the yarn for this review. I was not required to write a positive review. These opinions are 100% mine and are not biased in any way.
From the Yarn Company
"Ultra Alpaca is the ideal balance of luxurious super fine alpaca and Peruvian Highland wool blended together and spun up perfectly round and light. There are 72 incredible shades chosen to resemble plant-dyed colors. Our range of colors includes solid shades, natural heather shades and the irresistible jewels of the collection, dyed heather shades. Each is beautiful on its own or combined in endless possible color work combinations. Explore the rest of the Ultra Alpaca family, Ultra Alpaca Chunky, Ultra Alpaca Light and Ultra Alpaca Fine. Now available in tonal shades too!" See more on their website HERE.
Initial Thoughts
First of all I have to say how much I absolutely LOVE the color Berroco sent me. It's #62170 and is a beautiful almost aqua blue color but if you look really close you'll see find strands of all colors of the rainbow in there. Pictures do not do it justice!
Ultra Alpaca is a 4 ply yarn. Like the description says, it's light and round. I can tell it has quite a bit of air in the yarn which tells me it will be nice a warm. This yarn is a mix of fine alpaca and Peruvian wool. I know Alpaca is luxuriously soft BUT when there is too much it can get extremely warm. I also know Peruvian wool is extremely strong. I just love the balance of these two fiber together! Warm but not to warm, cozy, soft and strong. What's not to love!?
How it Works up
I was feeling a little inspired with this yarn so instead of working up a few swatch samples I made a shawl! You can read more about the Willapa Shawl HERE.
I also knit up a swatch and can say it was extremely east to knit and crochet with. I worked through 2 hanks and found no knots or anything that needed to be cut out. I think it's a high quality yarn!
When worked up the fabric light and full and it gets even better after you block. I wet blocked and jut as I expected the stitches relaxed and yarn got even softer! You could do some great textures stitches with this yarn.
Durability
After I blocked my knit swatch I roughed it up to get an idea how it might wear. At first some loose fibers cam off on my lap but after that it too quite a bit of elbow grease to get it to pill. I'm thinking the fibers that first came out were the alpaca but the wool did it's job by keeping the rest in place.
I feel this yarn is very durable. I did get it to pill up but like I said it took a quite a bit of work to get it like that. Defiantly not jut normal wear and tear.
Pattern Ideas
I designed a pretty simple shawl to highlight the gorgeous color I had but I could see several more complex stitches with great texture working well with this yarn as well.
You can pop over to Berroco's website to view all the great pattern they have written just for Ultra Alpaca.
Conclusion
If you're looking for a yarn that is soft beautiful and still strong and durable Ultra Alpaca is a great choice! It comes in several colors and weights making it perfect for a wide variety of projects. You can also see more Ultra Alpaca by checking it out on Ravelry HERE. 
I hope you enjoyed this yarn review! You can browse more reviews HERE. Do you know of a yarn you'd like to see reviewed? Feel free to contact me HERE let me know what yarn you'd like to see and I'll try to get my hands on some 🙂
Katy