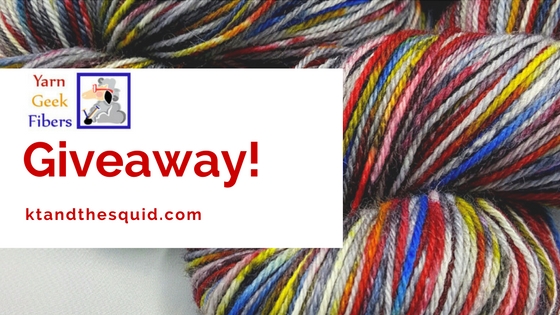 Last week, I told you about Sarah and and this month's Featured Indie Dyer, Yarn Geek Fibers. If you missed it, you can still find that post HERE. Sarah has been kind enough to offer up her brand new colorway To Boldy Go on her Super Geek base as a giveaway to KT and the Squid Readers!!
Here's a little info about the yarn colorway and base…
To Boldly Go is inspired by the shirt colors worn by officers in the Star Trek series.
FINGERING WEIGHT: SUPER-GEEK!
Superwash fingering yarn
75% Corriedale Wool 25% Nylon
4 oz / 113 g 430 yds / 393 m
Gauge 7sts/in US 0-3 needles
Super Geek! boasts crisp stitch definition. high durability and is extremely easy to care for. Suitable for socks, but also perfect for shawls, finer gauge sweaters and vests, children's items, and accessories. Soft enough to wear next to the skin, but hardy enough to brave daily wear and tear.
WASHING & CARE:
Machine Wash, Tumble Dry Low, No Bleach
Don't forget you can still use the promo code GeeksandSquids to save 10% through the month of January HERE at Yarn Geek Fibers!
ENTER THE GIVEAWAY!
To enter, simply add your email to the rafflecopter form below. You can earn bonus entries after that. Giveaway ends Friday Jan. 14, 2017 at 12am (pst).
Note: I HATE spam! I will never sell or use your email for anything other than to contact the winner.