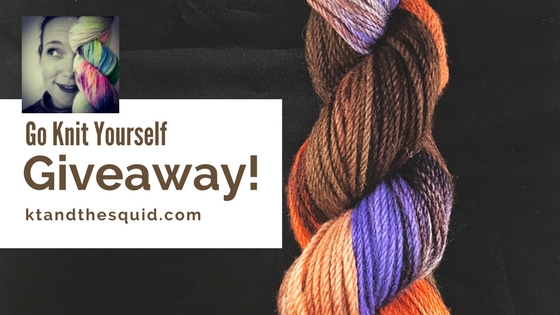 I hope you had a chance to read about Go Knit Yourself! If not you cans see that post HERE. Melanie has been kind enough to offer up her Autumn Sky colorway on her Daghda base as a giveaway to KT and the Squid Readers!!
Here's a little info about the yarn colorway and base…
This colorway was inspired by the cool, crisp nights of Autumn–my favorite season! The kids are back in school, there's pumpkin spice everything, my knitting doesn't give me hot flashes, and the bugs go back to hell where they belong. This colorway is also available in a speckled version, which would look great paired with the original!
Daghda: Daghda is 100% British Bluefaced Leicester Wool and absolutely lucious! Also known as BFL, Bluefaced Leicester is the finest wool commercially available. It has a unique character that combines softness with a silky texture and sheen. BFL is one of the longest wool fleeces available which makes the yarn stable and very hard wearing with low pilling.
Weight: Worsted
Yardage per skein: 181 yds approx
Skein weight: 100 grams / 3.5 oz
Gauge: 16-20 sts = 4″
Needle Size: US 7-9
Fiber: 100% British Bluefaced Leicester Wool
Care: Hand wash only in cool water. Line dry.
Don't forget you can still use the promo code GOKNITYOURSQUID to save 15% through the month of February HERE at Yarn Geek Fibers!
ENTER THE GIVEAWAY!
To enter, simply add your email to the rafflecopter form below. You can earn bonus entries after that. Giveaway ends Saturday Feb. 11, 2017 at 12am (pst). Must be 18 or older, void where prohibited.
Note: I HATE spam! I will never sell or use your email for anything other than to contact the winner/verify their entry.