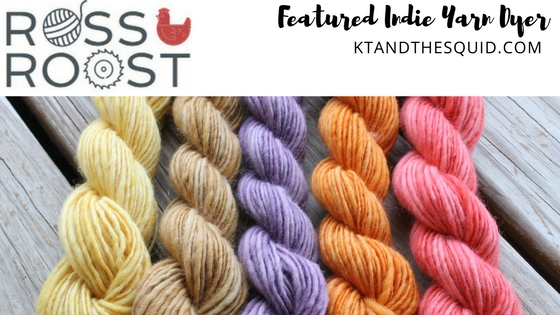 This post contains affiliate links
I'm so excited to bring you a new featured yarn dyer Beverly Ross of Ross Roost!




Beverly and I actually go way back. She has been a trusted tester of mine for years and though we have never met in person I consider her one of my best yarnie friends. Earlier this year she broke the news to me that her and her family were moving from sunny Arizona to Ohio. Which sounded like a great adventure! She shares about her New place on her site HERE. I knew she had started dyeing fiber and spinning yarn so I absolutely had to ask her to be a featured dyer.
Now through the end of the month (September 2017) you can use the code SQUIDLOVE to get 15% off your purchase of $10 or more HERE.
At Ross Roost you can find yarns for $10 – $30 and a few luxury fibers and mega hanks that are in the $40 range. I've had the pleasure of actually working with some of her yarn and I can tell you it amazing! I'll have a pattern coming out soon so keep an eye out!! Browsing her shop my top three yarns were Beach House, Berry Sorbet and Sunken Treasure.
What I love about her yarns is they are all originals. Each skeins start as a blank fiber. She dyes it then spins it by hand into a beautiful work of art! Bev only uses a few environmentally friendly dyes so she even mixes the beautiful colors you see using her own formulas. You can read more about her process HERE. It's a really fun read!
Beverly says, "Ross Roost is a family collective my husband I started to share our hobbies and passions and provide our family with a small source of additional income. The dominating presence in the shop (and the item I am most passionate about) is hand dyed handspun yarn. Each hank of yarn is spun by fiber I hand dye in small batches in crock-pots. Each one is unique so you can crochet, knit, or weave it into a one of a kind project. I share the process I follow, my experiment successes, and failures on my blog. I also write some crochet patterns and have begun really focusing on designs that showcase handspun yarn to give crocheters some project ideas."
Beverly also has a few patterns on Ravlery HERE you should check out and sells a few finished crochet items in her Etsy shop.
Beverly has been kind enough to offer a month long coupon code for KT and the Squid readers! Now through the end of the month (September 2017) you can use the code SQUIDLOVE to get 15% off your purchase of $10 or more HERE. She has also offered to giveaway some yarn which I will post on Monday (So keep an eye out!).
Thanks so much Beverly for being this month's featured indie dyer! Be sure to stop by her sites and say "Hi" for me!